How to prepare egg pancakes?
Egg pancakes can be a great alternative to everyday sandwiches, while the addition of a colorful salad will provide a large amount of vitamins.
Essential ingredients
– 2 large eggs (110 g),
– 2 dried tomatoes in oil (35 g),
– 3 tablespoons wheat flour (36 g),
– 2 tablespoons of wheat bran,
– 1/3 cucumber (70 g),
– medium tomato (180 g),
– iceberg lettuce (40 g),
– black or green olives (20 g),
– parsley (3 g),
– salt, pepper spices.
Preparation method
We start by whipping the proteins so that the pancakes become fluffy and increase their volume. Add the yolks, mix. Pour the chopped parsley, cut into strips, dried tomatoes, flour into the egg mass and bran. Mix thoroughly. Fry pancakes in a dry pan on both sides.
Tomato and cucumber cut into smaller pieces, cut the olives in half and we mix the ingredients with each other. Season the salad as you like, and place pancakes on the plate next to it.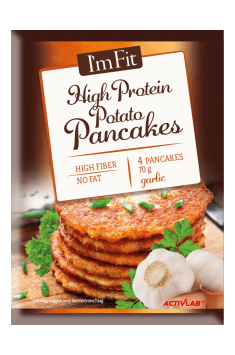 Nutritional values

Protein 22.6 g

Carbohydrates 50.8 g

Fats 18.9 g

Fiber 9.9 g

Total calorific value 426 kcal.

Posted on: November 17, 2019