How to choose the right outfit for exercise?
Along with the coming spring, you decided to dump the kilograms that were dressed during the winter, you signed up for fitness and gym and … you have nothing to wear. There are a lot of shoes and clothes in stores, but … how not to get lost? What to look for? What is the guideline when choosing shoes? 
__
Here you can find sports wear – CLICK 
__
What shoes?
By far the most weight should be put on choosing the right footwear. 
There are many companies producing sports footwear on the market. What should you look for when choosing? One of the most important issues is the model of shoes. It is important that the shoe is intended for the activity we are planning, in this case fitness or gym classes. Such footwear will provide us with safety during exercise and ensure that we do not harm our feet and joints. 
Suitable shoes for fitness classes have built-in shock-absorbing shock-absorbing cushions, anti-slip system and are made of airy materials. 
It is worth paying attention to the height of the shoe – there are typical, sport shoes reaching to the ankle and a higher, stiffening ankle. The choice depends on your personal preferences. 
It should also be well-sized – shoes should not be too tight, because it can cause abrasions and problems within the nails, nor can they be too loose – during aerobics the foot in too big shoes will move, and the fingers will hit the front of the shoe causing pain. Too large shoes also increase the risk of ankle injury. 
Is it worth buying special underwear?
Most people do not attach importance to underwear during training, but it is as important as the right shoes (especially for women). 
It is worth investing in the right model of a sports bra that will eliminate any shocks. A long-term wearing of an ordinary bra during a fitness or gym session causes stretching of the skin on the bust, which leads to an unsightly appearance of this part of the body. In addition, any lingerie ornaments, such as lace, hooks or bows, can cause abrasions during intense training. 
How to choose the right sports bra? It's best to go to a lingerie store (most popular lingerie brands have sports models on offer) and just try on different models. 
What to look for when buying a sports bra? Keep the following rules in mind rubber under the bust should adhere very closely to the body – if you do not know whether to choose a model with a larger or smaller circumference under the bust, opt for a smaller one. The rubber will stretch a bit during use; 
pay attention to the clasp. There are sports bras on the market without fastening, worn by the head. This may be a good choice for women with a small breast, but ladies with large breasts should decide on the model fastened. A bra that has 3 hooks is a good choice; 
check how wide the straps are. The wider, the better. Wide straps better hold the bust during exercise and do not breathe in your arms; 
in fact, the most important thing in choosing a sports bra is how you feel about it. Put it in the dressing room, move, jump, raise your hands up – if the bra does not move and you do not feel discomfort, it's probably the model for you. 
You can also buy panties with a sporty cut. However, if you do not want to spend money on it now, look in your wardrobe for seamless underwear – it's the perfect way to avoid abrasions.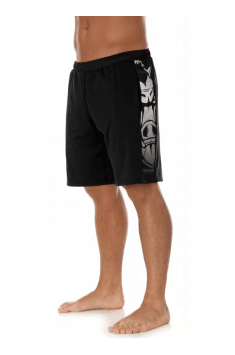 And what about your clothes?
Companies producing sportswear every season outdo each other in designing new typefaces, using sophisticated colors or using the latest technologies. In such stores everyone will find something for themselves and will be able to feel fashionable. Sportswear, produced by well-known, trusted companies, includes technologies designed to wick moisture outside, keep the body at the right temperature, or even prevent the build-up of bacteria on the skin. 
What is worth paying attention to when choosing a dress (apart from aesthetic considerations)?
The garment should be the most suited to the figure. You should give up all unnecessary ornaments, such as sequins, belts, buckles, tassels, which will simply interfere during the exercise, and the gym may additionally be a threat on certain devices. 
Clothes, that is what blouse and pants you wear, is less important than choosing the right shoes and underwear. You should remember that the most important thing is your well-being. If the most fashionable leggings are, and you are creping up in them, it is not worth investing in them – you will certainly find loose trousers for yourself in the store. 
What do you need for the gym?
 

If you are going shopping before the first visit to the gym and would like to buy everything you need, you can also think about buying bags. You certainly have to put shoes and clothes in something. There is no requirement to wear special sports bags, but they are designed especially for people who are exercising, thanks to which in most models there is a separate shoe compartment, separate for water, small pockets in the middle for keys, documents or a music player; 

towel. In all fitness clubs and gyms caring for hygiene, the exercise without a towel is not allowed. Pay attention to it! When using a mat or gym equipment, put a towel on it before you lie down or sit down. It can be an ordinary towel, but you can also buy towels from special sports collections; 

socks. In sports stores you can get socks, which are sewn from a special material to prevent abrasions and the accumulation of bacteria on the skin of the feet. Stitching that can cause pressure is also eliminated. 

In summary, when we complete the outfit for training, first we should take care of health and safety, and only then look. While you can easily use ordinary sweat pants and T-shirts, buying special sports footwear is essential if you want to avoid serious injuries and serious problems with the joints. 

__

You can read also: Types of gloves for strength workout

Posted on: April 18, 2019