Coenzyme Q10
 Coenzyme Q10
This compound (CoQ10) occurs throughout the human body. Without CoQ10, the cells would not be able to produce the energy necessary for life. Coenzyme Q10 is also a powerful antioxidant, it protects cells against the destructive effects of free radicals. 
__
Here you can find coenzyme Q10 – CLICK
__
Wonderful properties?
The discovery that people with heart disease lack Q10 coenzyme, began research on its use in cardiology. CoQ10 was presumed to alleviate the symptoms associated with congestive heart failure (inability to adequately pump blood), cardiomyopathy (cardiac hypertrophy), and prevent cardiac damage as a result of chemotherapy used in cancer. In turn, other studies have suggested that CoQ10 may also be helpful in the treatment of Parkinson's disease, in improving the work of the immune system, and even in the fight against cancer.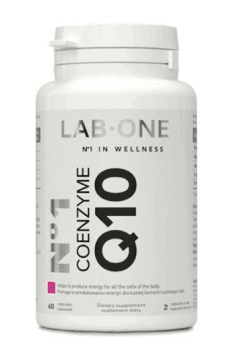 The latest discoveries.
It turned out that in the case of Parkinson's disease, as well as heart disease, the coenzyme Q10 in the body is insufficient. Recent studies have also confirmed the assumption that CoQ10 will alleviate the symptoms of stiffness, tremor of the limbs and slow movements characteristic of this neurological disease. And the use of coenzyme in the early stages of the disease is able to even delay its development. Other studies have also shown the beneficial effects of CoQ10 on the heart. In patients suffering from congestive heart failure or cardiomyopathy, in which CoQ10 was administered in addition to traditional medicines, an improvement in health improved faster. Recently, the anticancer properties of coenzyme have also been tested. The results of this work suggest that CoQ10 does have them. It probably blocks the process leading to the growth of cancer cells. Scientists believe that coenzyme also strengthens natural immunological mechanisms, thanks to which the body can more effectively destroy abnormal, mutated cells. 
Diet is not enough.
None, even the best composed menu will provide us with a "healthy dose of coenzyme Q10. This substance is present in fish and animal products, but only in small amounts. Eating even a lot of them, we will absorb only 15 mg daily (100 mg per day in clinical trials). 
Not always indicated.
If the research results quoted by us encouraged you to take pills with coenzyme Q10, talk to your doctor first. In the case of heart failure, cardiomyopathy or Parkinson's disease, you must not use any medicines yourself. It was also found that the reduction of CoQ10 resources in the body may be a side effect of taking statins – agents that lower blood cholesterol levels. If you are taking them, ask your doctor whether you can use preparations with coenzyme Q10 to compensate for its deficiency in the body. 
And if you are healthy?
 

Would you also like a little more CoQ10? Some experts 

in the field of supplementation, they recommend taking up to 100 mg daily as a measure against fatigue. 

In pharmacies, preparations with this compound are available without a prescription, eg Coenzyme Q10 (capsules), Coenzyme Q10-D (lozenges). 

__

You can read also: Ubichinon Q10 – eternal youth

Posted on: March 7, 2019